WICEN in southern Tasmania has a long association with motor sport, especially Targa Tasmania and, in earlier years, the Australian Rally championship heat under its various sponsor related guises. Tasmania's loss of the championship heat was also sadly missed by WICEN. The differences between the two events, from WICEN's perspective, was that Targa involved radio and repeater deployment and operation using Targa owned equipment, whereas the championship task was to design, establish and operate a whole system. Rallies normally have at least three radio networks – Stage, Command and Results. WICEN's role on Targa Tasmania involved Stage nets. On the championship event it had been Command or Results. WICEN's interest dwindled.Discussion with Targa's Communications manager, Ron Brown VK7ZRO, led to Ron having a think about something with a bit of a technical challenge for WICEN to get its teeth into. Ron is well known for at least two of his attributes, both associated with his head. The first is that lots of it is visible. The second, more important, is that Ron does a fair bit of thinking, usually with interesting outcomes.
In 2009, a new event was introduced - Targa Wrest Point - a sort of mini Targa, run only in the south of the State over two days, versus the five days of Targa Tasmania. The first event in 2009 suffered some problems which were designed out for 2010. One of the changes was the use of one stretch of road four times, twice in each direction. This road leads from Geeveston in the Huon Valley to the Tahune Airwalk, a spectacular tree top height walk way in the deep and winding Huon River valley. The stages Starts/Finishes were almost at the Airwalk a very difficult location for radio communications. The Airwalk visitor station has satellite phone communications for voice and data but this was only available for the rally in case of dire emergency. The challenge for Ron was getting reliable communications between there and Rally Command at Wrest Point Casino, back in Hobart. Solution? Come up with an outline plan and call in Tasmania (South) to develop and implement it. Fixing two problems at the same time, comms and WICEN's dwindling interest.

Ron had found a good, high repeater location in 2009. A new logging road to an elevation of 555 metres ended at a nice level platform with astounding outlooks in the requisite directions. This gave a good start but still did not provide comms directly to the stages starts and finishes , nor over a 300 metre range of hills 53 kilometres distant and on to Rally Command at sea level, a further 3 kilometres away. This gave a total path from the stages to Command of 63 kilometres.
Solutions:
Command - Voice
UHF to a UHF/VHF cross band repeater located across the river from the rally stage terminus.

VHF to a repeater at the high point

VHF to a VHF/UHF cross band repeater VHF to a repeater at the high point

VHF to a VHF/UHF cross band repeater located on the hill above Wrest Point Casino in Hobart

UHF to the Casino
Results – Data (files containing each stage's start and finish data)i>
Packet Station located across the river to;
Packet station located at the high point.
Transfer to Telstra Next G wireless broadband & email results to Casino.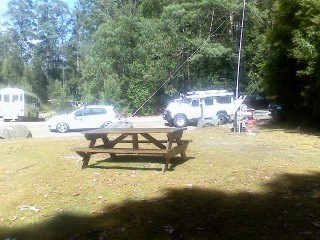 Resulting from field surveys, four WICEN locations were established.The first being in a picnic area at the start of the Airwalk walking track and UHF handheld accessible from where the action was, at the stage termini. This was accessed via a bridge over the Huon River, normally only open to pedestrian traffic. Two stations were set up here. A Kenwood TM-D71A with UHF folded dipole and a commercial vertical dipole on a 6 metre mast provided the cross band repeater for Command voice communications. The packet service was covered with a netbook PC, a Kenwood TM-D710A with built in TNC and a Diamond X50 antenna on a 5 metre mast. Power was from a portable generator and power supply. The YAPP file transfer facility of WinPack AGWPE drove the packet.An initial file corruption problem was overcome by a PACLEN adjustment and from then on all ran sweetly.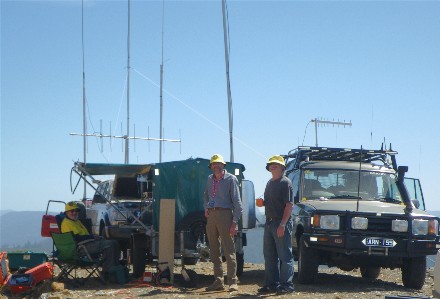 The next link was on the hill top, known as Arve 34C, the name of the logging coupe. A Honda 1KVA inverter generator powered this site. Here was a VHF repeater for Command voice comms (Tx Phillips FM815, Rx Phillips PRM80), 6m mast and six element yagi, aimed towards Hobart, and another Kenwood TM-D710A with Diamond X50 at 6 metres as the second packet station. A notebook PC received the files which were then attached to emails despatched to Results in Rally Command at Wrest Point casino. Connection to the Telstra Next G network was achieved via a Telstra wireless link service and a Phil VK7JJ designed eight element yagi (www.perite.com/vk7jj/NextGYagi.htm). WICEN also established the Stage Net 80MHz repeater at this location
.

The next link in the Command net was at Mt Nelson above Hobart. An Icom IC-2720 in cross-band mode with a 8 element UHF beam and VHF vertical dipole at 6 metres was intended. Initial problems led to trials on another IC-2720 with a car roof top dual band antenna. This was adequate and stayed in use for the duration.
The system terminus in Wrest Point Casino is almost RF impenetrable, so a tripod mounted 6 element yagi at the front door was Heliax connected to an Icom IC-208H in the room being used as rally Command centre.